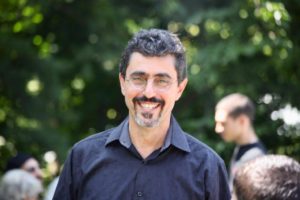 William Shaheen was the youngest of five siblings, a musician of the violin and oud, a composer, an optician, and a teacher. He was all of these things, and even then he was at his core an incredible brother, uncle and friend to so many. He passed peacefully on Saturday, October 1st surrounded by his family. The world has lost an incredibly gentle and kind human. William was fiercely loyal to his family, to his friends, to his staff, and his workplace of over two decades. He didn't ask much of anyone else but he lived a life of care and service to so many, and was a caregiver for both his mother and his sister before their passing.

William's leadership shone through in his work as an instructor of two decades at the annual Arabic Music Retreat, as a manager at Costco for two decades, and as a music teacher of students ranging in age from 7 to 70s. He believed that anything was possible, and you could see it in the work he put into teaching others, exercising, learning new crafts like glasswork, and personally renovating entire sections of his home. William loved through the giving of his time and his reliability. He taught us all so much, not the least of which was humility.

A memorial service for William will be held on Saturday, October 8th in San Diego. The memorial Service will begin at 1pm at Holy Angels Church with a period for meditative viewing from noon, and will continue with a burial service at 3pm at El Camino Memorial.
In lieu of flowers, the family asks that donations be made to the William Shaheen Scholarship Fund for the Arabic Music Retreat. Donations may be made at this link: https://www.paypal.com/donate/?hosted_button_id=2CRRF5TGXW9DA

Information will be forthcoming about a virtual celebration of William's life, and a scholarship to the Arabic Music Retreat in his name.
CLICK HERE TO DONATE TO THE WILLIAM SHAHEEN SCHOLARSHIP FUND