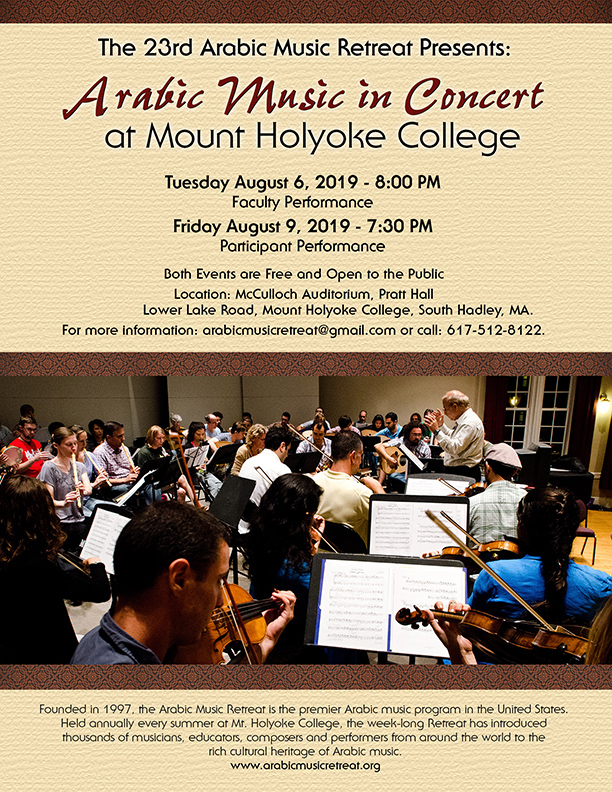 This year the participants and faculty of the Arabic Music Retreat will be presenting two concerts, both free and open to the public. Seating is first-come, first-served, with some seating reserved for participants.
Location for both concerts: McCulloch Auditorium, Pratt Hall, Lower Lake Road, Mount Holyoke College, South Hadley, MA. Parking is available in the parking lot on Morgan Street.

Tuesday, August 6, 2019 – 8:00 PM – Informal Recital by Faculty – Our faculty members perform as soloists or in small groups exploring innovative and traditional works.
Friday, August 9, 2019 – 7:30 PM – Recital by Retreat Participants. This unique evening of traditional Arabic music will be performed by two full orchestras (one with a choral group), followed by six smaller ensembles, and a rousing percussion group. Ninety talented musicians, from young people to retirees, have come to Mount Holyoke College from across the U.S. and far beyond, to study and play music together. This concert is the culmination of the week and their hard work.

For more information on the concerts: arabicmusicretreat@gmail.com